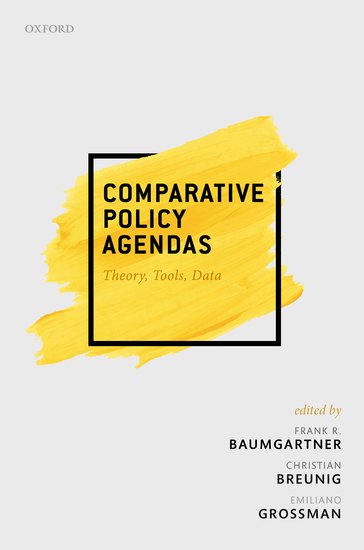 496 pages | isbn: 9780198835332 | © 2019
This book summarizes recent advances in the work on agenda-setting in a comparative perspective. The book first presents and explains the data-gathering effort undertaken within the Comparative Agendas Project over the past ten years. Individual country chapters then present the research undertaken within the many national projects. The third section illustrates the possibilities and directions for new research in comparative public policy using the data presented in this book. All the data used and discussed in the book is publicly available.

The book represents a significant contribution to the study of comparative public policy. By introducing a unified research infrastructure it opens up new possibilities for both empirical and theoretical research in this area.
The definitive guide for users of Comparative Agendas Project data
Provides a clear explanation of databases
Features cross-national coverage
Introduces individual countries' policy agendas and highlight comparative applications
Features contributions from leading scholars in the field
Based on databases publicly available at https://www.comparativeagendas.net/
Reviews:
Practical information:
Link to Oxford University Press for purchase or more information. This book is available for free through the Open Access program at Oxford University Press. Click on the Open Access link to download, or go here for the direct link for the PDF version of the entire book. Individual chapters are also available for download through OUP.
Purchase from Amazon.
Table of Contents and Contributors:
I. Roots, Foundations, and Evolution
1. Introduction: The Comparative Agendas Project: Intellectual Roots and Current Developments, Frank Baumgartner, Christian Breunig, Emiliano Grossman
2. 1. Gone Fishing: The Creation of the Comparative Agendas Project Master Codebook, Shaun Bevan
3. The Comparative Agendas Project: The Evolving Research Interests and Designs of the CAP Scholarly Community, Stefaan Walgrave and Amber Boydstun
II. Country Projects
4. The Australian Policy Agendas Project, Keith Dowding, Aaron Martin, and Rhonda L. Evans
5. The Belgian Agendas Project, Stefaan Walgrave, Jeroen Joly, and Julie Sevenans
6. The Canadian Agendas Project, Jean-Philippe Gauvin and Eric Montpetit
7. Croatian Political Agendas, Daniela Sirinic and Dario Nikic Cakar
8. The Danish Agendas Project, Christoffer Green-Pedersen and Peter B. Mortensen
9. The French Agendas Project, Emiliano Grossman
10. Political Agendas in Germany, Christian Breunig and Tinette Schnatterer
11. The Hungarian Comparative Agendas Project, Zsolt Boda and Miklos Sebok
12. The Israeli Agendas Project, Nir Kosti, Ilana Shpaizman, and David Levi-Faur
13. The Italy Agendas Project, Enrico Borghetto, Marcello Carammia, and Federico Russo
14. The Netherlands Policy Agendas Project, Arco Timmermans and Gerard Breeman
15. The New Zealand Policy Agendas Project, Rhonda L. Evans
16. The Portugal Policy Agendas Project, Ana Maria Belchior and Enrico Borghetto
17. Agenda Dynamics in Spain Laura Chaqués-Bonafont, Anna M. Palau and Luz Muñoz Màrquez
18. The Switzerland Policy Agendas Project, Roy Gava, Pascal Sciarini, Anke Tresch, and Frederic Varone
19. The Turkey Policy Agendas Project, Alper Tolga Bulut and Tevfik Murat Yildirim
20. The United Kingdom Policy Agendas Project, Shaun Bevan and Will Jennings
21. The United States Policy Agendas Project, Rebecca Eissler and Bryan D. Jones
22. The European Union Policy Agendas Project, Petya Alexandrova
23. Agenda Setting in the Florida Legislature, Kevin Fahey, Patrick Merle, Teresa Cornacchione, and Carol Weissert
24. Pennsylvania Policy Database Project, Jay Jennings, Stefanie Kasparek, and Joseph McLaughlin
III. Comparative Perspectives
25. The Public Agenda: A Comparative Perspective, Shaun Bevan and Will Jennings
26. From Public to Publics: Assessing Group Variation in Issue Priorities in the U.S. and Israel, Amnon Cavari and Guy Freedman
27. Protest and Agenda-Setting, Stefaan Walgrave and Rens Vliegenthart
28. The Media Agenda, Rens Vliegenthart and Stefaan Walgrave
29. Parliamentary Questions, Enrico Borghetto and Laura Chaques-Bonafont
30. Connecting Government Announcements and Public Policy, Christian Breunig, Emiliano Grossman, and Tinette Schnatterer
31. The Europeanization of Parliamentary Attention in and out of the European Union: France, Spain, the Netherlands, and Switzerland Compared, Pascal Sciarini, Frederic Varone, Roy Gava, Sylvain Brouard, Julien Navarro, Anna M. Palau, and Rens Vliegenthart
32. Horizontal and Vertical Attention Dynamics: Environmental Problems on Executive Policy Agendas in EU Member States, Gerard Breeman and Arco Timmermans
33. Using CAP data for Qualitative Policy Research, Ilana Shpaizman
34. Issue Attention in West European Party Politics: CAP and CMP Coding Compared, Christoffer Green-Pedersen
35. Conclusion: Advancing the Study of Comparative Public Policy, Frank R. Baumgartner, Christian Breunig, and Emiliano Grossman

updated: February 6, 2022