Three Decades on the World Stage
Since its inception in 1977, the Alliance has been deeply involved in the major energy-related developments affecting the United States and the rest of the world. The timeline below shows how world events (in black type) and Alliance accomplishments (in purple type) have intersected over the past three decades.

1973
OPEC Oil Embargo — The American public and politicians awaken abruptly to the perils of oil dependence and the economic importance of energy.
1977


Alliance to Save Energy is Founded — Senators Charles Percy and Hubert Humphrey create the Alliance to Save Energy, starting a 20-year-long history of bi-partisanship and government, business, environmental, and consumer cooperation. Humphrey tells Percy: "Chuck, this may be the most important single thing we do in our lifetime."
U.S. Department of Energy is Created — Seven months later, President Carter signs legislation creating a new federal department to coordinate energy policy and programs; energy efficiency and renewable energy programs receive major funding support.
1978
CAFE Kicks In — Automobile fuel economy standards (CAFE) take effect, eventually resulting in a doubling of the average new car's fuel efficiency and savings for the U.S. of 2.5 million barrels of oil per day.
National Energy Legislation Passed — Building on 1975 legislation, Congress passes comprehensive energy legislation which includes energy-efficiency tax credits and promotion of cogeneration and renewable power.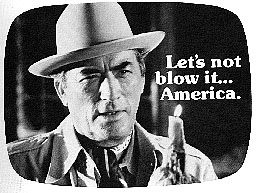 First National TV Ad Campaign — The Alliance mounts national TV public service advertising campaign. Gregory Peck promotes energy conservation by declaring "Don't Blow It America." Donated air time of $175 million gets the message into millions of American living rooms.
1979
Energy Future Arrives—Alliance Board member Robert Stobaugh's Energy Future popularizes a new solution to energy woes — energy efficiency.
Second World Oil Crisis and Three Mile Island Accident — The Iranian revolution generates the second world oil crisis, doubling oil prices and plummeting the industrial world into a recession. TMI accident ends new orders for U.S. nuclear powerplants.
1981
The Alliance Restructures Its Approach — Following President Reagan's drastic reductions in federal efficiency activities, the Alliance adapts by initiating new research programs and pilot demonstrations that outline innovative methods to promote energy efficiency in private markets.
1982
Alliance Promotes the Adoption of Utility Demand-Side Management — The Alliance designs the first methodology to evaluate efficiency as an energy resource for Arkansas Power and Light.
1984
Alliance Explores the Use of Energy-Saving Performance Contracting — The Alliance designs workbooks and hosts seminars on innovative, private sector financing techniques for energy-efficiency projects.
Alliance Legislation Shifts Energy Assistance Funds to Energy Conservation — Pushed by then-Alliance Chairman Senator John Heinz, Alliance-promoted legislation is enacted that allows governors to shift fuel assistance funds into energy-efficiency upgrades in low-income homes. To date, this legislation has moved nearly $2.5 billion into energy-efficiency investments.
1986
Oil Prices Collapse and Chernobyl Melts Down —Unleashing of free-market forces results in collapse of world oil prices and a perception of plenitude. Poor management results in devastating nuclear accident at Chernobyl, renewing global interest in energy efficiency
1987
Appliance Standards War Settled — President Reagan vetoes, then signs the National Appliance Energy Conservation Act, mandating federal energy-efficiency standards for many commonly used appliances.
1988
Alliance Reaches Out to Emerging Energy-Efficiency Industry — Sensing a change in the marketplace, the Alliance begins to organize the energy-efficiency industry to make its voice heard on national energy policy issues.
Gasoline Addiction Drives Up Energy Consumption — Americans drive more than 2 trillion miles for the first time ever; at the current rate of increase, nation will hit the 3 trillion mark within 15 years — triple 1968's level.
1990
Utility Demand-Side Management Programs Come of Age — Wide adoption of state integrated resource planning generates the largest source ever of efficiency incentives: over $2 billion a year.
1991
Gulf War Erupts — National attention once again focuses on energy issues as U.S. leaders cite energy vulnerability to initially justify military involvement.

EPA Launches Voluntary Energy-Efficiency Programs — The Environmental Protection Agency creates the first voluntary energy-efficiency effort, Green Lights, which issues in a new era of non-regulatory, market transformation initiatives involving the energy-efficiency industry, EPA, DOE, utilities, and nonprofit organizations.
Alliance Slams Poor Federal Energy Performance — The Alliance sheds a spotlight on the federal government's poor performance in reducing energy use in the government's own facilities — wasting more than $1 billion annually of taxpayers' money — and works closely with the energy-efficiency industry to propose legislative response to problem.
1992
EPAct Enacted — President Bush signs the comprehensive Energy Policy Act, including major provisions to improve federal energy management, building codes, equipment standards, and home energy ratings.
1993
Alliance Creates New Organizations to Address Emerging Issues — Beginning in 1993, the Alliance spurred the creation of the Business Council for Sustainable Energy, the Building Codes Assistance Project, the Export Council for Energy Efficiency, the Northwest Energy Efficiency Council, and the Hungarian Energy Consumers Association.
Congress Rejects Broad-Based Energy Tax — President Clinton proposes a small BTU tax that would potentially stimulate investment in energy efficiency, but Congress rejects his proposal.
Alliance Launches International Program — Recognizing the need for global energy efficiency, the Alliance launches an international program resulting in projects in Russia, Ukraine, Central Europe, Mexico, Ghana, and China.
1994
U.S. Dependence on Imported Oil Sets New Record — U.S. oil imports exceed domestic oil production for the first time in the nation's history. The latest culprit: Americans' newfound infatuation with light trucks and sport utility vehicles.
Alliance Begins Energy Efficiency Export Missions — With the U.S. energy efficiency industry, the Alliance undertakes educational and market development export missions to Mexico, followed by ones to Portugal and China; new business deals create American jobs while promoting a cleaner global environment.
1995
Movement Toward Retail Wheeling Threatens Efficiency — California Public Utilities Commission publishes the Blue Book, which changes DSM forever in the U.S.; the next year California adopts legislation that provides incentives for energy efficiency and renewable energy within utility restructuring.
Attempts to Eliminate Federal Efficiency Efforts Blocked — The new Congress attempts a major funding and regulatory rollback of energy efficiency. Led by its Chairman Senator Jeff Bingaman and its Co-chairmen Senator Jim Jeffords and Representatives Ed Markey and John Porter, the Alliance coordinates the energy-efficiency industry's work to successfully hold the line.
Alliance Goes Back on the Air — Renewing its original public education role, the Alliance initiates a new television and radio public service campaign to increase public awareness of the importance of energy efficiency in saving the earth, jobs, and money.
Scientific Community Issues Climate Change Clarion Call — The Intergovernmental Panel on Climate Change officially announces that "the balance of evidence suggests a discernible human influence on global climate." Undersecretary of State Tim Wirth (Alliance chair emeritus) announces a "hard targets" policy in the Geneva Climate Convention the following year.
1996
Alliance Opens First Overseas Office — The Alliance opens its first overseas office in Kaliningrad, Russia; followed by offices in Ukraine and Hungary in 1997.
Refrigerator Standards Set — Alliance helps negotiate national standards for new refrigerators, which will increase their energy efficiency by 30 percent.
1997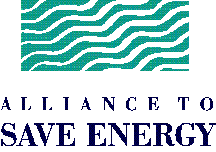 Climate Change Reduction Goals Agreed To — Kyoto Conference on Global Climate Change draws international attention to the environmental consequences of burning fossil fuels and spurs renewed interest in energy efficiency by potentially committing industrialized countries to lower carbon dioxide emissions.
Alliance Celebrates 20 Years of Leadership in Promoting Energy Efficiency — Led by its fifth chairman, Senator Jeff Bingaman, and its fifth CEO, David Nemtzow, the Alliance — with its board, corporate members, staff, and many partners — celebrates a 20-year history of linking government, business, environmental, and consumer leaders in a bipartisan effort to promote energy efficiency.
1998
Congress increases funding for energy efficiency programs by $80 million for FY99 following last-minute negotiations with the Clinton administration.
The Alliance's public outreach campaign scores multiple successes including three animated television spots that garner $2.2 million in broadcast time in 49 states; four radio spots airing in 45 states; the Power$mart consumer booklet; an animated, interactive consumer web site; and a new educator web site with free energy lesson plans. The campaign earns a National Energy Resources Organization award for public education.
The Alliance launches the Steam Challenge and the Steam Challenge Clearinghouse in cooperation with the U.S. Department of Energy.

1999
Clinton Strengthens FEMP Executive Order — Spurred by the Alliance's report, Leading By Example: Improving Energy Productivity in Federal Government Facilities, President Clinton issues an executive order calling for the federal government to reduce its energy use 35 percent by 2010 compared to 1985 levels. The order also calls for the government to cut its greenhouse gas emissions to 30 percent below 1990 levels by 2010.
2001
Senator Byron Dorgan Succeeds Senator Jeff Bingaman as Alliance Chair — First elected to the Senate in 1992, Senator Dorgan is the third ranking member of the Senate Energy and Natural Resources Committee and Chair of the Democratic Policy Committee. Senator Dorgan is also on the Commerce Committee and the Appropriations Committee and its Interior and Related Agencies subcommittee, which have jurisdiction over fuel economy standards and the Department of Energy's efficiency spending, respectively.

This page was updated August 1, 2003
The Alliance to Save Energy
1200 18th Street, NW, Suite 900
Washington, DC 20036
Phone: 202/857-0666 Fax: 202/331-9588
info@ase.org http://www.ase.org/