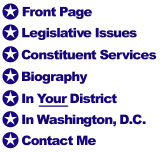 Passing a Patients' Bill of Rights and Providing Health Care Access
One of the reasons I ran for Congress was to work for a patients' bill of rights that guarantees medical decisions will be made by patients and doctors—not bureaucrats. So many families, including my own, have been placed in limbo when a family doctor orders medically necessary treatment, only to be delayed or overruled by an unaccountable HMO bureaucrat.
On October 7, 1999, a bipartisan managed care reform bill passed the House (H.R. 2723). This bill was written by those on both sides of the aisle—some of whom are doctors—and enjoyed wide bipartisan support. It provides for the fair treatment of patients and protects from liability businesses who offer health plans to their employees. A similar plan passed the Senate, but is now stuck in conference committee and the leadership shows no intention of moving the process along.
Many of you have heard the story of my wife Stephene. Her doctor told her she needed surgery, but when he went to get it authorized, our California-based insurance company refused. After a long battle with our doctor, they finally relented. We were just lucky Stephene's need wasn't an emergency, which is precisely the case for many families I've heard from.
For example, one mother had a daughter who was refused a cancer treatment because it was "experimental," even though it had a better success rate than other approved procedures. Another man told me that his family lost their health insurance when his employer switched health plans and the new insurer refused coverage. I've even heard from a doctor who was offered a bonus by an insurer if he wouldn't refer patients to the hospital.
Abuses like these will be ended if this bill becomes law. And it's about time. It would ensure many protections that some HMOs do not currently offer, including:
Elimination of "gag rules" preventing discussion of all available treatment options,

Guarantees that emergency room services are covered,

Provision of direct access to OB/GYN care for women,

Guarantees of access to specialists even if it is necessary to go outside of the network,

Provision for timely internal and external appeals in situations where treatment is denied and to hold the HMO accountable,

Requiring that health plans disclose coverage and quality indicators,

Allowing procedures for patient access to clinical trials that may save or extend the life of the patient,

Ensuring that medical records are kept private and confidential, and

Preventing disruption of care due to a change in plan or provider's network status.
I was very happy to see this bill pass. I am hoping the conference committee will do the right thing and act quickly to address the issue. This isn't the end of the need for health care legislation, however; I'm still hoping to make progress in the areas of Medicare reimbursements and improving access to coverage.