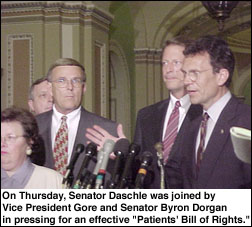 WASHINGTON, D.C. - Senator Tom Daschle said Senate Republicans put insurance company profits ahead of patient health when they rejected his "Patients' Bill of Rights" late Thursday and pushed through a measure that denies patient protections for 113 million Americans.

Daschle said he has pressed his "Patients' Bill of Rights" during four days of debate to provide basic health protections for the 161 million privately-insured Americans. For too long, Americans have been hurt when decisions about their medical care have been made by their health plan instead of by themselves and their physician, he said.

"This whole debate has been about who should make medical decisions – doctors, or insurance company accountants," Daschle said. "I am deeply disappointed that our Republican colleagues decided to side with the insurance companies. We had the opportunity to make a real difference for millions of people and -- on a largely party-line vote -- we didn't. Well, this issue is not going away. We're going to come back here time and again and press to give people the health coverage they need and deserve. "

The plan Republicans pushed through has fewer and weaker protections. And, most of its provisions exclude the 113 million people who are not covered under self-funded employer health plans, he said.

"During the first two days of this debate, Republicans killed every key protection in my bill," Daschle said. "Then they spent the last two days trying to cover their tracks -- voting for "rights" that do little or nothing. They're hoping that by passing a sham bill, they will get political cover, to protect them for killing a real Patients' Bill of Rights."

"They voted against letting doctors, not insurance companies, make medical decisions. They voted to deny Americans the right to go to the closest emergency room," Daschle said. "They voted to deny Americans the right to see qualified medical specialists, and they voted to deny women the right to choose an Ob-Gyn as their primary care doctor -- even though three-quarters of American women use their Ob-Gyn as their primary care doctor." Daschle said that because the Republican-passed bill fails to provide meaningful protections for millions of Americans, he expects it to be vetoed by the President.