Fighting for a Real Patients' Bill of Rights
"If we are really going to take America into the 21st century, then we need to make sure Americans have access to the lifesaving care and treatments that were discovered right here in United States of America. Medical decisions should be made in the exam rooms, not the board rooms, and I will make sure this happens through a real Patients' Bill of Rights."
Senator Barbara A. Mikulski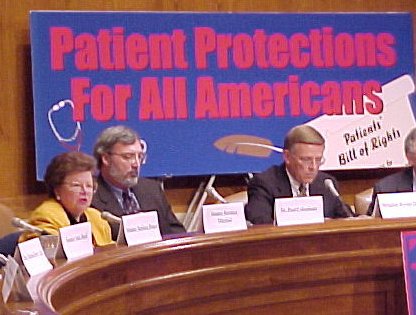 We need reform for managed care. I am very concerned that in the rush to contain costs, managed care companies are cutting corners with patient care. "Managed Care" should not become "manacled care." We need to make sure that providing access to quality care is every health plan's number one priority.
That's why I am working hard to ensure that all Americans with private health insurance can get the care they've been promised and have paid for. I am fighting for a strong Patients' Bill of Rights that secures basic patient protections like access to emergency room care, access to specialists when needed, access to clinical trials and a point of service option. I want to ensure that health care decisions are made in the consultation room by the doctor, not in the board room by an insurance executive. I am also fighting to enable patients to hold insurance plans accountable if their decisions result in serious harm.
Click here to learn more about what I'm doing to fight for a real Patients' Bill of Rights.
Click here to learn why the Democratic Party believes that we need a real Patients' Bill of Rights.