Top Stories








Today's Date: July 05, 2001





October 5, 1999 (ACS NewsToday) --- US Representatives Brian Bilbray (R-CA), Rick Lazio (R-NY), and Matt Salmon (R-AZ) held a press conference on September 22, 1999 to emphasize the importance of including a clinical trials provision in the patient protection/managed care reform legislation that will be coming up for debate in the US House of Representatives this week. They have been advocating language that allows cancer patients access to high quality, peer reviewed clinical trials, including US Food and Drug Administration (FDA) trials.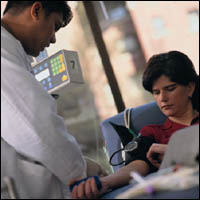 The American Cancer Society (ACS) has worked diligently with these members of Congress and their provision is strongly supported. However, the big question surrounding the upcoming debate is which bill will be used as the starting point. There are two options: the Bipartisan Consensus Managed Care Improvement Act (HR 2723), which is sponsored by Representatives John Dingell (D-MI) and Charlie Norwood (R-GA), provides access to clinical trials, although not FDA trials, for all patients with serious and life-threatening diseases; or HR 2824, which is sponsored by Representatives Tom Coburn (R-OK) and John Shadegg (R-AZ) and does not contain a clinical trials provision.
More than likely, the Norwood-Dingell bill will be the basis of the debate on the House floor. It is endorsed by the ACS because of its provisions for access to clinical trials, access to specialists, and assurance of quality of care. The bill also includes a provision that would allow consumers to sue insurance companies if they feel they have been unfairly denied coverage. In addition, the measure would allow cancer patients to choose their oncologist as their primary care physician.
In July, the US Senate passed a "Patients' Bill of Rights," which supporters fear will be vetoed by President Bill Clinton if it reaches his desk. The bill contains several cancer-specific provisions – one related to length of hospital stay following a mastectomy and another related to clinical trial coverage.
For more information, or ways to become involved, go to the ACS's Take Action web site.





July 05, 2001
Breast Implants Don't Age Well
July 05, 2001
Testicular Cancer Has High Cure Rate — In America
Related Links
Take Action Today!
US Food and Drug Administration