RN addresses need for federal patients' bill of rights legislation at Democratic Convention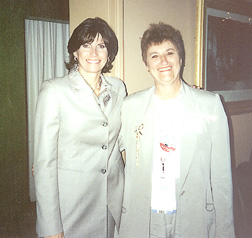 Mary Bono (R-CA) with ANA-PAC Chair Mary L. Behrens, MSN, RN, at the Republican National Convention in Philadelphia. The ANA co-hosted a welcome reception and dinner for convention delegates and invited guests and hosted a luncheon in honor of nurse delegates. Bono, Sen. Jim Jeffords (R-VA), and Reps. Nancy Johnson (R-CT) and Connie Morella (R-MD) discussed key health care issues in Congress.
A registered nurse was invited to share a frontline perspective regarding the need for federal patients' bill of rights legislation at the Democratic National Convention in August. Missouri Nurses Association member Doug Bouldin, RN, MSN, CS, FNP, a family nurse practitioner at a clinic in Troy, MO, was asked by Al Gore's presidential campaign to participate in an "American Dialogue" health care panel discussion, which was televised nationally from the convention headquarters in Los Angeles on Aug. 16. Bouldin recalls that he was in charge of the evening shift at St. John's Mercy Hospital in suburban St. Louis about four years ago when a car drove up to the ambulance entrance carrying a man who had already gone into full cardiac arrest. As an emergency room team attempted to resuscitate him, the man's wife explained that her husband had been having chest pains, but when they called their health care plan, they were told that they would only receive insurance coverage at a hospital that was 50 miles from home. So they attempted to drive to the facility. "About half way there, the man suddenly went into cardiac arrest," Bouldin related. "But it was too late. He was already dead when he arrived."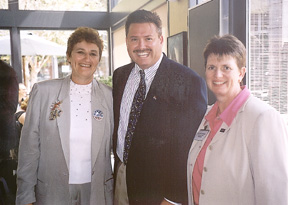 ANA-PAC Chair Mary L. Behrens, MSN, RN, with Doug Bouldin, MSN, RN, CS, FNP, and ANA President Mary E. Foley, MS, RN, at the Democratic National Convention in Los Angeles. U.S. Health and Human Services Secretary Donna Shalala, Rep. Lois Capps (D-CA), Rep. Carolyn McCarthy (D-NY), Gerrie Schipske (D-CA), an NP running for Congress, and Bouldin spoke at a luncheon hosted by the ANA. ANA also co-sponsored an event to highlight women candidates running for federal office.
After failing to resuscitate the man, Bouldin and the physician went out to inform his wife. And her first response was, "Why did they tell us to drive so far?" Bouldin said that passage of patients' bill of rights legislation in Missouri in 1997 put an end to similar "HMO horror stories" in his state, but that the Missouri measure is not enough. "We need to model federal legislation after what Missouri now has in place."