FOR IMMEDIATE RELEASE

---
Contacts: Suzy DeFrancis
(202) 973-3610
Renae Newmiller
(202) 973-1376
EMPLOYERS WARN CONGRESS: DON'T MAKE OUR EMPLOYEES PAY THE BILL FOR YOUR PATIENTS' BILL OF RIGHTS
Washington, DC, March 3, 1999 – As the 106th Congress begins debating issues such as health care, employers are speaking out against legislation that would raise health care costs for businesses and families – at a time when costs are already on the rise. The Health Benefits Coalition announced today that it is running radio and print ads in the Washington, DC media market featuring employers voicing concerns about the unintended consequences of proposed health care mandates. (Ad attached in script and RealAudio)
"These are real employers who are already facing real increases in their health insurance. What will they tell their employees when Washington cost increases force them to scale back or drop health care coverage?" stated Dan Danner, chairman of the Health Benefits Coalition.
Federal mandates on top of current cost increases – plus the threat of unlimited liability – would make it impossible for many businesses to offer coverage, or for many employees to afford it. U.S. employers face a predicted 7-10% rise in health care costs in 1999 – nearly three times as much as 1998 and the biggest increase in seven years (William Mercer, Inc.). For small businesses the impact is even greater – in some cases increases of 20% or more.
"Our insurance costs already went up this year. That made it even harder to provide coverage for my employees. I'm not asking for Congress' help. But the least they can do is not make things worse," states an employer in one ad.
A recent Georgia State University study shows that of the nations 43.5 million uninsured Americans, up to one out of four are uninsured due to the cost of government mandates.
The ads point specifically to cost increases resulting from the Kennedy-Dingell bill (S. 6, H.R. 358), "There's a new bill in Congress – Ted Kennedy's Patients' Bill of Rights. No, it won't provide insurance to 43 million uninsured Americans. No, it won't make insurance cheaper. Instead, it increases costs by more than $200 per family and leaves two million more uninsured."
"This legislation could price employers – who voluntarily provide coverage to three out of four working Americans – out of offering health benefits entirely," stated Danner. "Congress should be encouraging businesses to provide health coverage – not making it impossible for them to do so."
In addition to running inside-the-beltway, business owners were featured nationwide in radio ads during the February congressional recess as part of the Health Benefits Coalition's ongoing efforts to educate Congress and the public about the unintended consequences of big-government mandates on America's health care system.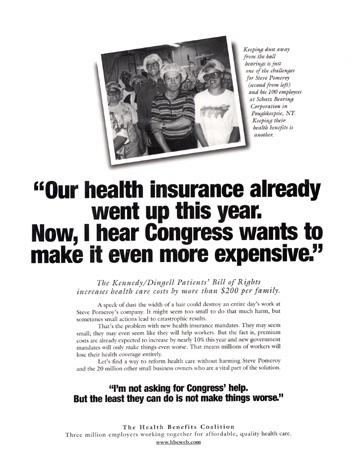 ###

The Health Benefits Coalition is a broad-based organization representing three million employers providing health care coverage to more than 100 million employees and families. The coalition believes affordable, quality health care is best achieved through broader coverage, choice and competition in the marketplace -not government mandates.

<!- End Contents ->