Winter 2000 Newsletter

---
Health Care and the 106th Congress
---
Despite bitter partisan divisions in Congress, the National Partnership scored some important victories for women and families and held the line on some recent gains. Still, the 106th Congress was host to repeated attacks on womenís health, from a so-called "partial-birth abortion" bill that bans a multitude of abortion procedures to a Faustian bargain on international family planning.
A Victory, A Battle Ahead for Patient Protections
In a spectacular victory for women and families, the House approved the bipartisan Norwood-Dingell managed care reform bill in October by a stunning 275-151 majority. The win came after months of hard work by hundreds of organizations -- led by the National Partnership -- that support meaningful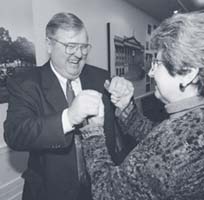 patient protections. Among the billís provisions are direct access to ob/gyn services and real legal accountability for managed care companies that wrongfully deny care. Norwood-Dingellís strong protections stand in stark contrast to the Senate managed care bill, passed in July along strictly partisan lines.
The House and Senate bills now must be reconciled in conference committee, but the appointment of conferees openly hostile to patientsí rights has stacked the deck against real reform.
Abortion Rights Under Attack
Anti-choice forces gained ground when the Senate passed the so-called Partial-Birth Abortion Ban Act in October, setting the stage for a House vote next year and a veto override vote close to the 2000 election. The bill would set a dangerous precedent by banning a wide range of abortion procedures and threatening hard-won protections under Roe v. Wade.
International Family Planning Fiasco
Extremists in Congress succeeded in linking payment of UN dues to restrictions on international family planning. This policy threatens the health of women and children by reducing the funds available for reproductive health care and gags advocacy groups overseas from advocating for sound reproductive rights laws. The National Partnership and other organizations are particularly concerned that it sets a terrible precedent and violates U.S. principles of free speech and democracy. In a separate effort and in recognition of the devastating effects of this agreement, Secretary of State Madeleine Albright announced a 2001 budget proposal to increase U.S. funding for international family planning programs by more than $150 million.
Contraceptive Coverage for Federal Employees
Federal employees will retain access to contraceptive coverage under a bill signed in September by President Clinton. The one-year provision, part of the Treasury-Postal appropriations bill, was first signed into law in 1998. It requires federal employee health plans to cover contraceptives if they cover other prescription drugs. Throughout, the National Partnership worked closely with Congress and the Administration to keep contraceptive coverage for federal employees alive, and Lichtman stood with President Clinton while he signed the bill.
Medical Privacy Regulations
The National Partnership has also been working behind the scenes to make sure medical information is kept confidential, including the medical records of minors who get care on their own. When Congress failed to pass comprehensive privacy legislation by its self-imposed deadline of August 21, the Department of Health and Human Services (HHS) stepped in to fill the void. Lichtman joined the President and HHS Secretary Donna Shalala in an Oval Office ceremony to unveil the proposed regulations.
Although the new regulations are an important step forward, they are limited in scope. HHS has only limited regulatory authority over medical records that are stored or transmitted electronically and cannot regulate all of the entities with access to patientsí medical information. We are working with HHS to make sure their final regulations help as many women and families as possible, and we will continue to fight in Congress for more comprehensive medical privacy protections.
Health care is certain to be a hot topic in Washington for many months to come. Stay tuned to the National Partnershipís web site (www.nationalpartnership.org) for more information about these important issues.
---
Next Article: New Report: Detours on the Road to Employment

Copyright 1998,
National Partnership for Women & Families.
Disclaimer
<!PARTNERSHIP COPYRIGHT INFO ENDS-->