HEALTH CARE
Patients' Rights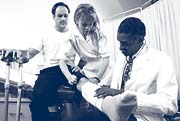 Because of the failure of the Republican-controlled congress to enact meaningful reform, President Clinton, in the last months of his administration, ordered the Department of Labor to issue new regulations strengthening patient appeal rights. While the changes are not comprehensive, they do represent an understanding of the challenge working families face in navigating the maze of regulations, policies and self-serving interests of health plans. The new regulations will impact about 130 million participants in Employee Retirement Income Security Act health plans.
However, President Clinton cautioned that the regulations would not go far enough in providing health care protection for the American people, stating: "The only way to do those things is to pass a real, enforceable patients' bill of rights."
Medical studies continue to document that our health care system is plagued by the chronic problems of "overutilization, underutilization and misutilization" of various procedures. Since an individual's well-being is frequently at stake, it is essential that the public have an effective voice in the health care system. We echo President Clinton's call for a strong patients' bill of rights.
HEALTH COVERAGE AS A DEFINED CONTRIBUTION
Fueled by the consultant community, employers are considering limiting their responsibility for providing health benefits to a defined contribution arrangement. Under that scenario, the employer would provide the employee with a certain dollar amount, leaving the employee free to choose among competing health plans.
Consultants are preaching that "Health care costs will not adequately be controlled until the actual consumer of services becomes the purchaser." This philosophy ignores the body of literature that suggests that consumers who are required to pay significant costs for medical treatment are frequently forced to delay basic and preventive care and seek treatment only when the condition reaches a point where more invasive and expensive care must be provided.
Consultants also argue that giving employees money and allowing them to choose from all plans increases their choice. They ignore the loss of purchasing power that an employer-sponsored group contract brings to bear. The employer covering 500 employees is going to have more leverage over price than 500 employees approaching the market as individuals. Such an approach is likely to increase, rather than decrease costs. Health plans will now expand their marketing efforts from a finite number of companies to the significantly larger numbers of consumers.
In a similar vein, congressional Republicans continue to advocate various schemes that would dismantle employer-sponsored health care plans. In its place, they would substitute tax credits and/or vouchers and let the individual "shop around." Unfortunately, health care is not a commodity like shoes or VCRs. We can also expect the Republicans to continue to push for an expansion of Medical Savings Accounts – first introduced as part of their plans to gut Medicare.
QUALITY AND EQUITY
Proponents of defined-contribution health coverage insist that with consumers paying the bill, they will be more adamant in demanding improved quality of care since they will be directly paying the bill. It is highly unlikely that a consumer, untrained in the details of medical care, will be able to effectively demand changes called for by the Wennberg Dartmouth Atlas of Health Care or the Institute of Medicine Report.
The Wennberg Atlas graphically illustrates that geography plays a significant role in the medical treatment provided patients with certain medical conditions. Many doctors, whether beset by inertia or self-interest, do not follow established best practice treatment protocols which means that a woman living in Minneapolis may have a different set of treatment options for breast cancer than a woman living in Buffalo. Men living in Macomb County, Michigan, may find themselves undergoing unnecessary and medically inappropriate angioplasties simply because the service is a cash cow for the hospital and doctors, and no one is advocating for aligning medical practice with protocols recommended by the medical community.
The Institute of Medicine report released in late 1999 should have been a wake-up call that something is drastically wrong with our medical system. According to the report, some 80,000 deaths per year are caused by medical errors in hospitals. An even greater number of adverse outcomes has also been identified. Many problems identified by the IOM are caused by drug errors that could be prevented by implementing a computerized order entry system; others are caused by oversight and lack of vigilance.
Other medical literature also provides an estimate on the number of unexpected fatalities annually from encounters with the health care system:
12,000 deaths from unnecessary surgery.


7,000 deaths from medication errors in hospitals.


20,000 deaths from other errors in hospitals.


80,000 deaths from hospital-related infections.


106,000 deaths from non-error, adverse effects of medications.
Despite the advances we've seen in medical care over the last several decades, there has not been a significant improvement in applying these improvements equitably. Reports continue to assert that less than aggressive treatment is still being given to women and minorities. As the population ages, the decision about who among the elderly gets aggressive care and who is given palliative treatment cannot be trusted to a biased medical community. We also need to review where the research dollars go – especially if the decision is left to those whose sole commitment to diversity is lip service. We may quickly find ourselves back in the days when women and minorities were left out of research studies.
PATIENT PRIVACY RIGHTS
Improving the quality of care for UAW members and families requires vast quantities of data and sophisticated technologies. But while health care information technology promises quality and cost improvement, it also threatens privacy and confidentiality. The same information that identifies an individual for improvement in care can also potentially identify a person for other purposes.
As the availability and use of automated information expands, the potential for abuse increases. New information cannot be allowed to trample the rights of families, while at the same time, they must be logically and practically linked to evidence-based health status improvement.
In this Section:
Introduction
Prescription Drugs
Patients' Bill of Rights
2001 Agenda