Many states mandate that private insurance companies, Medicaid, and public employee health plans provide coverage and reimbursement for specific health services and procedures. The ACS supports these initiatives when it comes to cancer prevention, early detection, and treatment services. This overview provides a snapshot of state mandated coverage for private heath plans, Medicaid, and Medicare coverage of early detection services for cervical cancer screening.
CERVICAL CANCER EARLY DETECTION
The American Cancer Society's current early detection guidelines recommend that all women who are or have been sexually active or who are 18 and older should have an annual Pap test and pelvic examination. After three or more consecutive satisfactory examinations with normal findings, the Pap test may be performed less frequently. The Society believes that the frequency of pap smears following a baseline of three normal Paps in row should be determined by the women and her health care provider. Regular cervical cancer testing is the best way to prevent unnecessary deaths due to cervical cancer.
State Mandates for Private Health Insurance
Twenty-three states require private health insurers to cover cervical cancer early detection testing. Illinois and Ohio have mandates that public employee health benefit plans cover cervical cancer testing, and Maryland has a unique law requiring hospitals to offer a Pap test to adult female inpatients.
Self-Insured Plans
ERISA, or self-insured plans, are not regulated at the state level and therefore women in these plans do not necessarily get cervical cancer early detection benefits, even if there are mandates in the states to cover such benefits. Self-insured plans are typically large employers. Women who have self-insured based health insurance should check with their health plans to see what cervical cancer early detection services are offered.
Medicaid
By statute or agency policy, Medicaid or public assistance programs in all 50 states and the District of Columbia cover testing for cervical cancer either routinely or upon physician's recommendation. This coverage may or may not conform to American Cancer Society guidelines. Please check with state Medicaid offices to learn more about what services are provided for cervical cancer testing. A list of state Medicaid offices can be located on the internet at www.medicaid.aphsa.org/members.htm.
National Breast and Cervical Cancer Early Detection Program
Furthermore, all states are making breast cancer early detection testing more available to medically underserved women through the National Breast and Cervical Cancer Early Detection Program (NBCCEDP). This program provides breast and cervical cancer testing to women without health insurance for free or at very little cost. The NBCCEDP attempts to reach as many women in medically underserved communities as possible, including older women, women without health insurance and women who are members of racial and ethnic minorities.
Though the program is administered within each state, the Center for Disease Control and Prevention (CDC) provide matching funds and support to each state program. Now in its tenth year, the program has provided 2 million early detection exams to underserved women, diagnosed over 5,800 breast cancers, over 31,000 precancerous cervical lesions, and over 500 cervical cancers. After a 10 year commitment, we are now beginning to detect new cancers at their earliest stages leading to longer term survival. These accomplishments demonstrate a truly nationwide effort. Unfortunately however due to limited resources, only 12-15% of all eligible women are served nationwide.
Offered mainly through non-profit organizations and local health clinics, this program is aimed at providing early detection testing for breast and cervical cancer in medically underserved women. Each state's Department of Health will have information on how to contact the nearest program participant. For more information on this program, please contact the CDC at 1-888-842-6355 or on the internet at www.cdc.gov/cancer.
Medicare
Medicare provides coverage for a pap smear, pelvic exam and a clinical breast exam every three years for Medicare beneficiaries. Furthermore, if a woman is considered high-risk, at childbearing age or has had an abnormal pap smear in the preceding three years, she would be eligible under Medicare to be covered for a pap smear every year.
States with Laws Mandating Coverage of Cervical Cancer Early Detection Testing
May, 2000
State
Private Insurance
Other

Alaska

Annual test for persons over age 18

California

Upon referral of patient's health care provider

Annually

Medicare supplemental: cover costs exceeding Medicare Coverage limits; annual test

Delaware

Specified coverage

District of Columbia

Annual testing as medically necessary

Georgia

Annual or more often with physician order

Illinois

Annual test

State employees, county and education employee: annual test

Kansas

Pap test covered if "lab services" are covered under existing plan

Louisiana

Annual test

Maine

Annual test

Maryland

hospitals: offer to adult female inpatients

Minnesota

Cover routine testing

extended basic Medicare supplement plan must cover 100% of cost

Missouri

Cover testing for non-symptomatic women

Nebraska

Outreach and provisions for screening of Native American population

New Jersey

20 or older, every two years or more frequently with doctor referral

New York

Annual, 18 and older

Nevada

Annual, 18 and older

New Mexico

Coverage

North Carolina

Annual

Public employee plan

Ohio

Specified coverage

Public employee plan: specified coverage

Oregon

18-64, annual. More often with doctor referral

Pennsylvania

Annual

Rhode Island

Requires all insurers to cover Pap tests in accordance with ACS guidelines

South Carolina

Annual

Virginia

Annual test

West Virginia

Annual, more frequent with doctor referral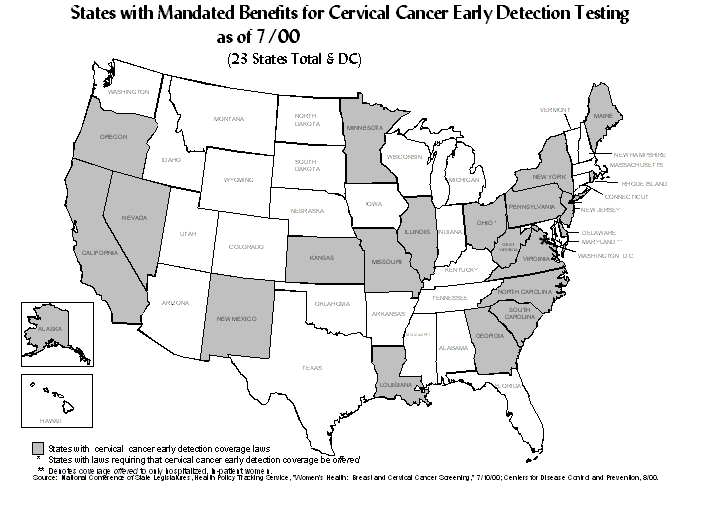 Revised: 10/18/2000